Home Car Charger Ireland – If you're one of the many people in Ireland who owns an electric car, you'll know that finding a place to charge it can sometimes be a bit of a challenge. But with the EVBox Elvi home car charger, you can easily charge your car at home. It's an ideal solution, the right choice for you.
About EVBox
EVBox was founded in 2010 and arose out of a need for home EV chargers in Northern Europe. With home charging, electric cars become an everyday reality, and people want to be able to charge their cars at home easily with an Electric Car Charger Ireland installation. The company has gone above and beyond to make the best home car chargers for electric cars possible.
Based in Amsterdam, Netherlands, EVBox has multiple offices worldwide, and its products are commonly used for home car chargers in Ireland and one of the EV chargers, Electric Car Charger Ireland recommends.

Ideal for Charging Your Vehicle – Home Car Charger Ireland
Several connections are used to charge electric vehicles, but the EVBox Elvi handles this with ease – it will charge any vehicle on the market and can be supplied with a socket to plug in your own cable.
Home charging can be a bit of a hassle if you're not quite sure what you're doing, but this is the home charger Ireland needs – it is designed with the user in mind. It's extremely easy to use and will get your vehicle charged quickly.
Sleek and Compact Design
The home charger is small enough to be installed in a discrete location at your property, and its design is both practical and attractive. The home charger can be installed on a wall next to a driveway or in a garage, and the compact size means that you won't have to sacrifice storage space for other things.
Convenient Features – Home Car Charger Ireland
As you might expect, the Elvi charges your electric vehicle, but it has a few tricks up its sleeve. The charger connects to your home Wi-Fi, and a smartphone app allows you to control your charging remotely.
You can also monitor and analyse charging and battery data with the app, making it ideal for those who want to be updated about their vehicle and its performance.
Because it connects to your Wi-Fi, any updates to the control software for the charger can be downloaded, and any fixes that need to be applied can be actioned by EVBox remotely.
One factor that concerns some people is that by having a charger outside their home, there's a possibility someone could park on your drive and take advantage of it. This would cost you money as they'd be using your electricity. Since the EVBox Elvi only starts charging with your keyfob or charging card, the Elvi grants you peace of mind and security by preventing unwanted users from plugging their vehicle in.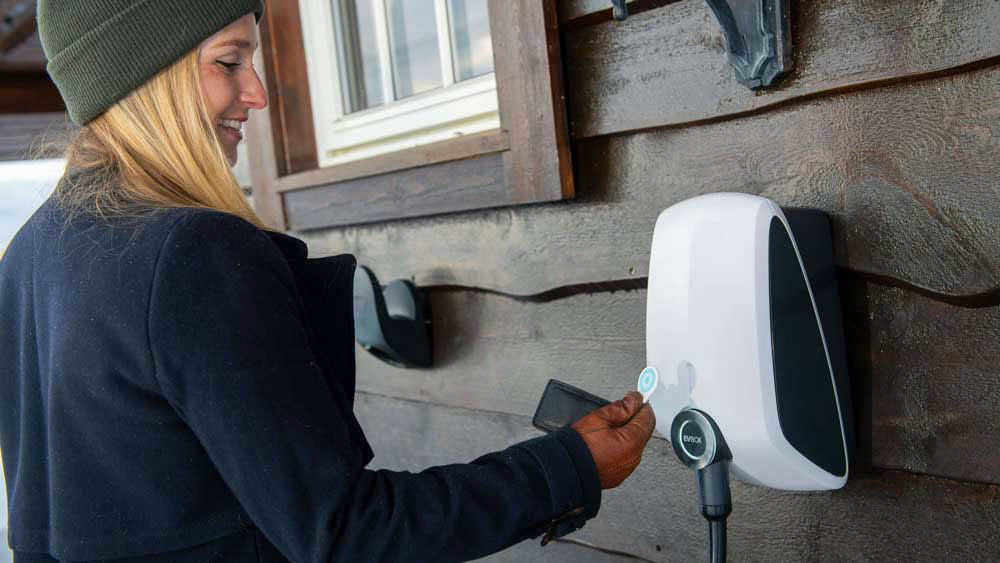 Balanced Charging and Fuse Protection
The home car charger Ireland residents use should do exactly what you want – charge your vehicle. Because of the power demands of charging an EV battery, a large amount of power can be drawn from the mains, affecting the performance of electrical devices within your home.
Fortunately, the EVBox Elvi incorporates smart charging technology and can lower the amount of power it uses in response to other power usage in your home. Fuse protection tracks the load and prevents exceeding your main fuse capacity.
This may mean it takes a little longer for your vehicle to charge, but it provides a safer and more convenient charging method. There's no chance of overloading power circuitry, and you can carry on about your business at home without any worries.
If you're leaving your vehicle to charge overnight, you'll experience no problems, as the vehicle will be ready for use when you get up.

Future Proof
You might be tempted to think, "the future is already here!" as electric vehicles are now quite common. However, we probably haven't seen the last iteration of charging technology, or the connectors required to make it all happen.
The EVBox Elvi is built in two sections. The rear section, attached to your wall, is where most of the electronics are. The front faceplate and vehicle connection are separate.
In theory, should you wish to change the type of connector on the Elvi, only the front of the box would need switching. With the ability to update the onboard software over the internet, any future developments should be easily handled by the Elvi.
The Downsides to the EVBox Elvi
No home car charger Ireland has seen is perfect, but the Elvi does a pretty good job. The most common complaint about the device concerns the app – not everyone finds it intuitive to use.
However, given a little time, most people find it does the job well and provides many configurations and monitoring options for the charger.

How Long Does It Take to Charge Using the Elvi home car charger?
The length of time to charge depends on your vehicle. All-electric vehicles have a different profile, so you'll need to familiarise yourself with your particular model's charging time. A handy feature of the app is that it can show you how long it will take to complete a full charge.
Other Details
The EVBox Elvi can be configured for multiple users has many features that make owning an electric vehicle a breeze. It is available in either a tethered or untethered version allowing the ultimate flexibility.
Installing an EVBox Elvi Home Car Charger Ireland
Installation is simple and easy for professional electricians who have experience in EV chargers. At Electric Car Charger Ireland, we can install the EVBox Elvi for you, and we provide a free home survey to ensure that it is the right choice for you.
In conclusion, the EVBox Elvi home electric car charger is a brilliant choice for anyone who wants to charge their electric vehicle at home. If you'd like any further information, including details regarding an available SEAI EV charger grant or would like to book an installation, please don't hesitate to contact us here at Electric Car Charger Ireland. This is the home car charger Ireland has been waiting for!
---
EV Charger Installation – EV charger installation doesn't have to be difficult, but there are a few things you need to keep in mind. Check out our latest blog post for details.