What are the benefits of having EV charging points for your business? This is a question that many people have been asking lately. With so much focus on sustainability and environmental awareness, installing EV charging points at company locations makes sense. Still, you may not have considered the complete range of reasons.
Below, we will discuss seven reasons why your company should consider installing electric vehicle charging stations.
1) Your employees can charge their cars at work
Many EV owners like to keep their battery topped up, and your EV-driving employees may be opting to install EV chargers at their residence. EV charging points for business provide an extra charging option and increase convenience.
Aside from home charging, your employees may have been seeking out public charging points that aren't always available in convenient locations for people who need a charge on the go. When EV charger installation is available at your company, your employees can charge their EV up while they're working or meeting with customers, and they're ready to go anywhere they need to after work.
This also helps if they use their vehicle to keep appointments with customers away from your office – always keeping the battery level high will ensure they can reach their appointments without issue.
2) Customer can charge their vehicles with EV Charging Points For Business
A similar problem exists for your customers. If they have come to your location, they may need to recharge their EV battery before continuing on their way.  When EV charging points for business are installed at your company, customers can charge their EV up while they're conducting business with you and then carry on with their day. This will increase customer satisfaction and help create a positive public image among environmentally conscious consumers.
In addition, Car Chargers & EV charging points for business are great to advertise. Like any type of charging station (think mobile phones), EV chargers make a perfect marketing opportunity. "Charge your EV while you shop" is an excellent way to attract customers.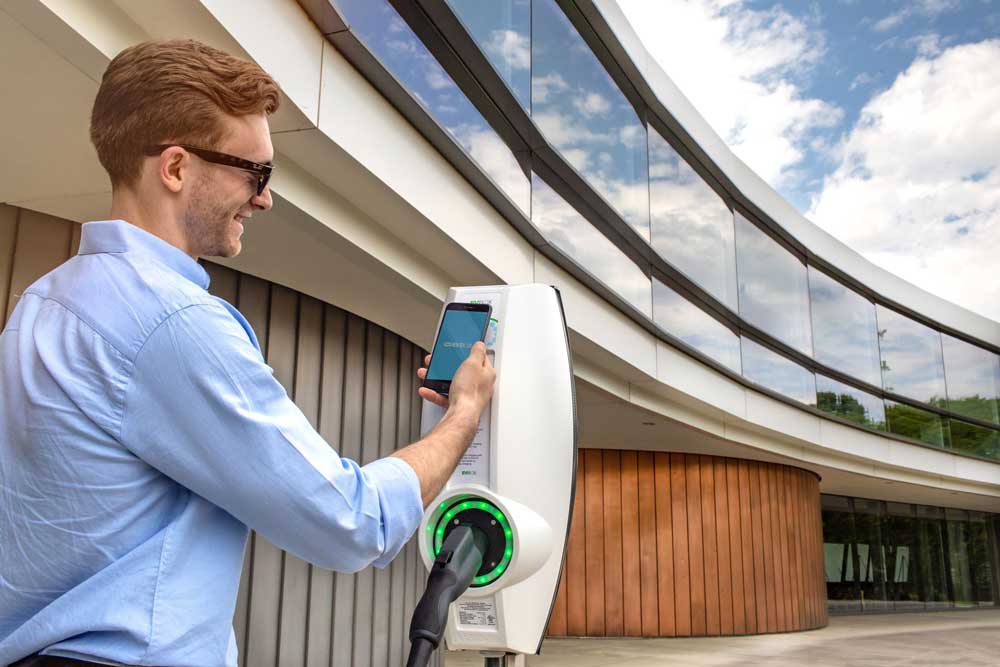 3) Keep customers on-site longer with EV Charging Points For Business
Enticing customers to your business location is one thing, but encouraging them to stay longer than they planned is another. Especially for retail, the longer a customer stays, the more likely they are to buy more items or products from you. They'll be charging their vehicle while increasing your sales potential in the process. EV charging points for business are perfect for keeping EV-driving customers on-site for long enough to get to the level of charge they need!
4) You'll be showing environmental responsibility by investing in EV infrastructure
EV charging points for business will change how people perceive your company. Convenience is one aspect of this, but even for people who don't own electric vehicles, it can cause a shift in perception.
EV charging points can help you build relationships with environmentally-minded EV driving customers, which is very important these days. Both traditional vehicle owners and EV drivers are conscious of businesses that offer EV charging points – they know these places are actively committed to sustainability and EV infrastructure.
EV charging points for business also show consumers that you're invested in environmental responsibility and sustainability. So, by installing EV charging points at your company, you'll be making environmentally conscious decisions while building positive ties with customers. A win-win!
5) You can move to an EV fleet
If your business operates a fleet of vehicles, whether for getting employees from A to B or for deliveries (or any other reason), an electric vehicle quickly becomes a viable replacement.
Lower fuel costs are one aspect of this, saving your business money, but you'll also lower your business's carbon footprint. While this may only sound aspirational at the moment, as new legislation comes into force over the coming years, you may find that a lower carbon footprint can give you numerous benefits – paying less tax could certainly be a consequence of moving to EVs.
6) Appear on maps
If you want to get your business noticed a little more, every bit of advertising helps. Publicly available charging points are found on maps and in apps, guiding members of the public to their nearest convenient charging point.
EV charging points for business can appear on such maps, and they'll have your business name attached – plus, when people stop to charge their vehicle, what's to stop them from entering your business to buy a few items or make inquiries?
7) Generate revenue
You can set up EV charging points for business to generate revenue for your business. The electricity that is being used needs to be paid for, and if your charging point costs slightly more to use than the cost of the electricity it supplies, the surplus could become an essential source of income for your business. EV charging points for business can generate revenue while also making EV drivers feel welcome.
The EV charging point could be set up to charge EV owners a small fee, or even allow them to 'pay-as-you-go' at the time of use. This way, your company is generating an income stream from EV drivers who need occasional recharging, and EV drivers are happy because they're not paying for the electricity with an upfront cost.
In addition, there may be potential to install EV chargers that use solar power to generate electricity, thus supporting EV drivers with lower carbon emissions and solar-powered businesses – and reducing the cost of the supplied electricity.
Chargers for Electric Cars & EV charging points for business can be found in many places, and some are free to use while others have a fee attached. If you can afford to offer free charging, it may provide a great incentive to get more customers through the door.
EV Charging Points for Your Business
There are many benefits to installing EV charging points for business. As the price of fossil fuels continue to rise, it is becoming more critical than ever before that companies start taking notice and investing in this technology. These electric car charging stations will help your employees save time, money, and you can show environmental responsibility by using renewable energy.
Ireland is one of the first countries to offer a package for electric vehicle adoption, so if you're looking to make the switch, you'll want to know more about Ireland's EV incentive package. Check out our latest blog post for full details.