Rolec EV Charger – If you have an electric vehicle or intend to purchase one soon, installing an electric car charger at your home can be the next step you want to complete. However, there are often several obstacles in the way. One of the largest obstacles is choosing the right EV charger for your circumstances – is a Rolec EV charger the right choice?
With Ireland's EV incentive package, you can apply for a grant of up to €600 towards the cost of installing an EV charger at home. This can significantly impact the overall cost of installing a charger but doesn't necessarily help with choosing the right charger.
The Rolec EV charger range has been a good choice historically, but rapid changes are occurring in the world of electric vehicles. Is it still the best home EV charger on the market?
Rolec EV Charger
Rolec is a well-known company that manufactures EV chargers. The Rolec Wallpod is one of the most popular home EV chargers on the market. It offers a Type 2 socket with a Type 2 tethered lead option, making it suitable for a wide range of electric vehicles.
Every Rolec EV charger review is likely to mention the price. It's one of the lowest-priced EV chargers around, and it gets the job done. If the Rolec EV charger price is a significant factor for you, the Rolec Wallpod is a budget option you can rely on.
Is the Rolec EV charger Ireland's favourite electric vehicle charger? Not necessarily – although it has a large market share by virtue of the Rolec charger price, new developments have made the Rolec Wallpod look a little light on features.
So is there a better choice?
Get Smart With Your EV Charger
With Ireland's EV incentive package available to encourage everyone to move to more sustainable energy usage, you'd think that the Rolec electric vehicle charger would be an ideal solution. However, other manufacturers have a lot to say on the matter.
Both Zappi and EVBox produce EV chargers that offer everything the Rolec EV charger does but with added extras. Not the least of these extras is the smart capabilities found in their chargers.
Zappi and EVBox include dynamic load balancing in their products. Dynamic load balancing considers the available power and the usage expected by the people in your home. It will prevent your home's main electrical supply from being overloaded, meaning you won't experience a problem such as the power suddenly being cut.
If you live in a busy household, this can be a critical factor when choosing an EV charger. Extra people in the house can mean more electrical appliances are in use, which can impact the amount of power available to charge your vehicle – or vice versa.
A Rolec EV charger Ireland review might not mention this as it isn't an included feature, but it's a vital consideration if you have a busy household.
Zappi and EVBox also offer a smartphone app to manage your vehicle's charging. The app can be used to view the status of the charge, set timers, and even activate or deactivate the charger remotely. This is an excellent feature if you want to monitor your home's power usage or want to be able to control the charger when you're not at home.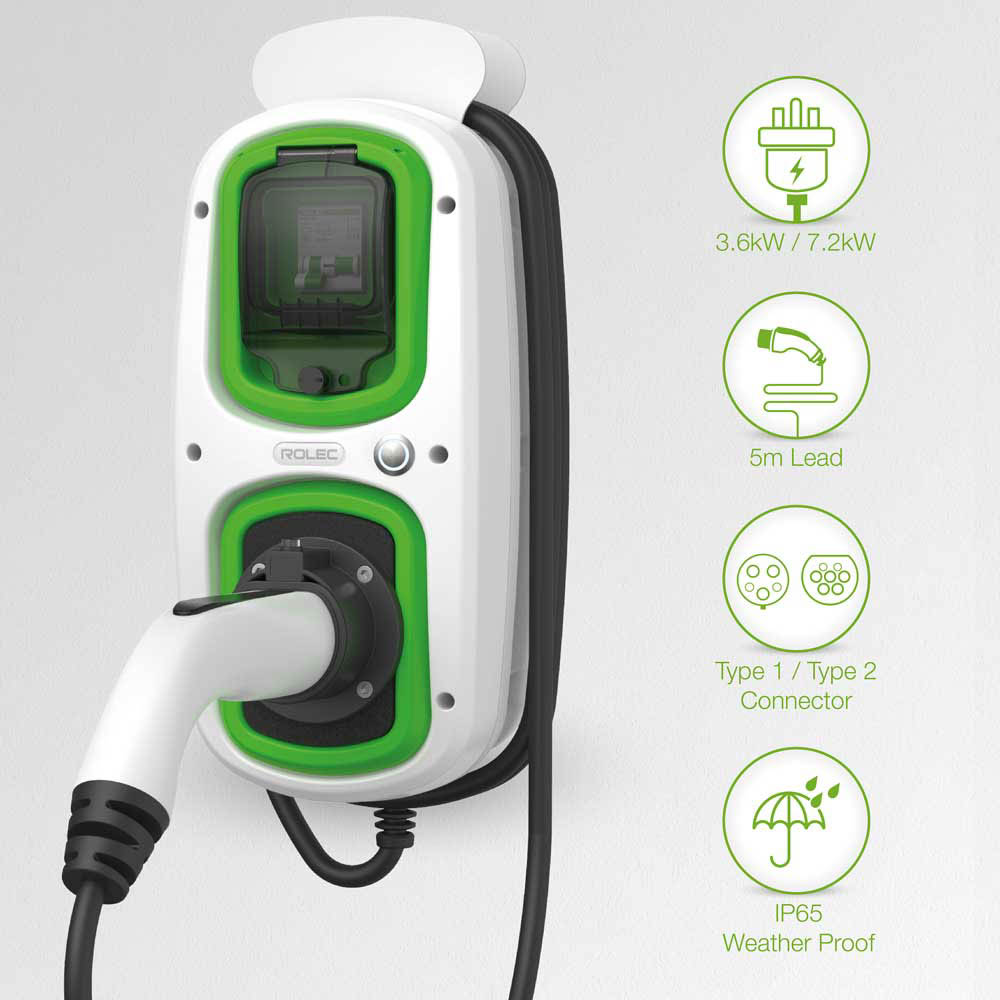 EV Charger Security
Without any security system in place, it would be possible for anyone to park next to your EV charger and use it to top up their battery. This can be quite a concern when you're paying for the electricity!
The Zappi EV charger offers PIN access to the charger, which means a vehicle can't be charged unless you know the PIN. You can share the PIN with members of your household, but it does prevent unauthorised usage.
The EVBox charger goes one step further and offers fob access. This is even more secure than a PIN as a physical device must be present to initiate charging, thereby preventing unauthorised charging.
For the EVBox commercial EV chargers, both options are available – PIN or fob access. This provides the greatest flexibility, which is highly convenient for businesses.

Renewable Energy Charging
Using renewable energy is a great way to lower your costs while being more eco-friendly. The Rolec EV charger price must be factored against the lack of options for using renewable energy. In contrast, Zappi chargers and EVBox commercial chargers are ready to use renewable energy sources.
If you have a solar PV system or a wind turbine, the power generated from these sources can be used to charge your vehicle. Configuration options mean that only renewable sources can be used, or renewable energy will be used until electricity from the grid is required.
In either case, it's a more cost-effective way to charge your vehicle.
Smart Billing
Smart billing is another feature available on the EVBox commercial and Zappi chargers. This allows you to easily manage the cost of charging and ensure the charge is applied in the right way.
This is an excellent way to keep track of your costs and budget for charging your vehicle.
Is The Rolec EV Charger Still The Winner?
So, what's the verdict? The Rolec EV charger price might seem like the obvious choice. Still, when you factor in the features and benefits of other manufacturers' products, it's clear that better options are available.
Zappi and EVBox offer smart capabilities, dynamic load balancing, smartphone apps, and renewable energy charging as standard. And while the Rolec EV charger price might be lower, the features and benefits of other products make them a better choice in the long run.
When looking for an EV charger, don't just go for the cheapest option. Consider what you need from a charger and choose the right product for you.
Ireland's EV Incentive Package
If you're considering an EV charger for your home, Ireland's EV incentive package is something you should be aware of. The package offers several financial incentives to encourage people to switch to electric vehicles, including a grant towards the purchase of an EV charger.
An important aspect of the incentive package is that all work must be completed by a qualified and reputable company that has been approved by the SEAI. We have the correct certification and approval in place to install an EV charger for you at home or at your business.
Once you've picked your charger, you can apply for the grant, and we'll assist you wherever we can. Whether you want a Rolec EV charger or think the Zappi or EVBox solutions will better fit your needs, we're here to help.
Contact us today to learn more about Ireland's EV incentive package and which EV charger is perfect for you.
Related searches: Rolec EV charger review, Rolec EV charger Ireland, Rolec wallpod, Rolec EV charger Ireland, Rolec EV charger price, EV charging workplace, 3.6kw EV charger, wallbox EV charger